Kits
AC&F Built Armour Reefer
Price:: $60.00 (+S&H)
Kit #YMW-127
Armour Refrigerator Line purchased 2,000 steel reefers from AC&F in 1947. They were the only reefers built with the unique AC&F proprietary roof design.
The kit features an accurate recreation of the unique roof stamps, one piece resin cast body, custom etchings and 3D printed parts. Custom decals from Black Cat Publishing.
Less trucks and couplers.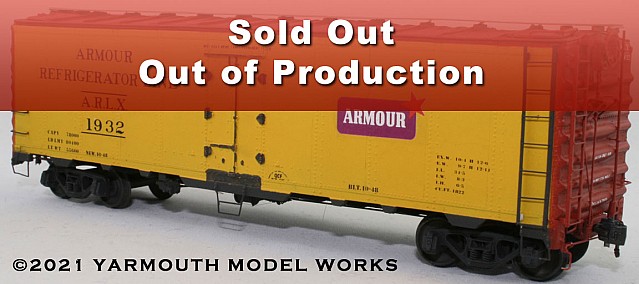 Finished kit shown — Click for larger image
---
Shipping & Handling
| | |
| --- | --- |
| Order Total | Shipping & Handling |
| --- | --- |
| $3 - $39.99 | $3.00 |
| $40 - $89.99 | $10.00 |
| $90 - $139.99 | $13.00 |
| $140 - $179.99 | $19.00 |
| $180 - $239.99 | $24.00 |
| $240 and over | Contact us for rates |