Kits
ACF Built Postwar 40' 50 ton C&EI Boxcar
Price:: $60.00 (+S&H)
Kit #YMW-118
Built in Jan '49. 200 cars with 10'4" IH and 6' doors. The first 100 cars had Youngstown doors and the last 100 Superior doors.
Car numbers for the lot modeled are actually 64500-64699.
The kit features the unique oil canning effect from welded car sides, custom etchings, custom decals, photo etched running boards, Tahoe Model Works Coil-Elliptic 50-ton trucks. The patterns for this car were developed in CAD and 3D printed.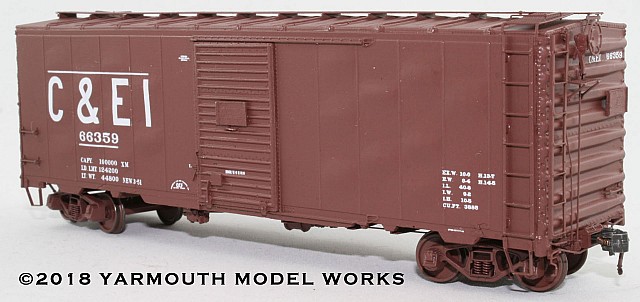 Finished kit shown — Click for larger image
---
Shipping & Handling
| | |
| --- | --- |
| Order Total | Shipping & Handling |
| --- | --- |
| $3 - $39.99 | $3.00 |
| $40 - $89.99 | $10.00 |
| $90 - $139.99 | $13.00 |
| $140 - $179.99 | $19.00 |
| $180 - $239.99 | $24.00 |
| $240 and over | Contact us for rates |