Detail Parts
---
Car Ladders & Rungs: Left-Side 2 Rung Ladder
Price:: $4.00 (+S&H)
Part #YMW-305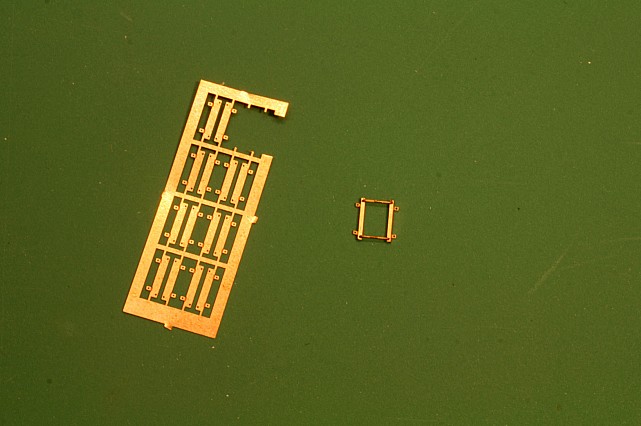 Ladders
The parts are easy to use. Cut the stiles from the fret and either using a tool like "Etch-Mate" or a steel ruler and a single edge razor blade, fold the stiles into an angle. Use either commercial straight grabs or form your own for the rungs. Now you can easily use 0.010" or 0.008" wire if you desire for a more scale appearance. Cut the legs of the grab very short and insert in the holes. Secure with CA or solder. Small tabs of styrene inside the angle can be used to create standoffs. Click on any of the photos for a larger image.
Each fret contains enough parts for one car.
HO Scale Etched Ladder Rungs
Our research indicates that car ladders came in a variety of widths, depending upon manufacturer and end user. As a result we are pleased to offer this selection of ladder rung widths which should cover off most needs. The fret includes enough rungs to build 4 ladders and have a goodly amount of spares. Extra long legs are also included for those who wish to use the legs as pins to further secure the ladders to the car sides and ends.
Shipping & Handling
| | |
| --- | --- |
| Order Total | Shipping & Handling |
| --- | --- |
| $40 - $89.99 | $12.00 |
| $90 - $139.99 | $15.00 |
| $140 - $179.99 | $22.00 |
| $180 - $239.99 | $27.00 |
| $240 and over | Contact us for rates |
Due to changes at US Customs and Border Protection and Canada Post, we are no longer able to mail small parts orders as letter mail. As a result we have to implement a minimum order policy effective immediately.
Orders will now have to be at least $40.00 before shipping costs are added.
I very much regret having to do this, but the government agencies leave me with no option.